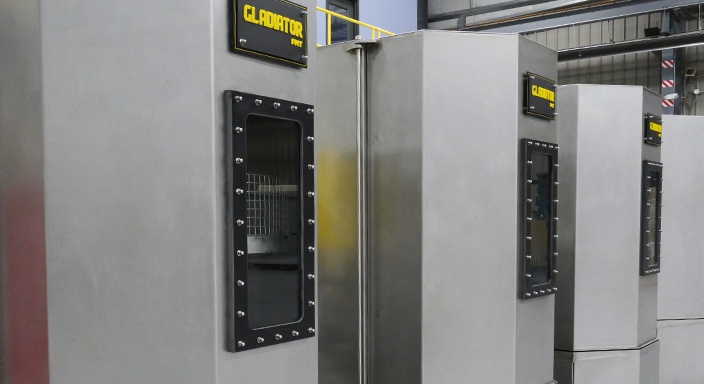 How Much Do Industrial Parts Washers Cost?
Industrial parts washers are used in many manufacturing, automotive, and production facilities. They save time and money by efficiently removing grime, dirt, and other contaminants from a wide range of parts and components.
If you're in the market for one, you might wonder what to expect to pay. The short answer is that it varies based on your needs. Read on to learn more as we break down the different cost elements and provide you with an estimated price range so you can make a more informed buying decision.
Factors Influencing the Price of an Industrial Parts Washer
Many things can influence the cost such as part size, volume, cleanliness, and required drying levels. 
Volume and Size of Parts—The volume and size of the parts you need to wash in a single load will determine the size of the washer you need. These two requirements will also impact the price. 
For example, you may be able to use a smaller washer if you wash a large number of small parts. In contrast, if you need to clean a smaller number of large parts, you may need a larger and more expensive washer.  
Cleanliness Levels—The required cleanliness level will also affect the overall cost. Depending on how much dirt and grease you need to remove, the machine will require additional parts and engineering to meet your requirements.
Dryness Levels—If you need a 100% dryness level, the parts washer will require a built-in drying mechanism.
Industrial Parts Washer Price Range
While it's impossible to provide a quote without knowing your exact needs, here is a price range table of what you can expect to pay:
Conveyor System Washers (depends on customization)
$125k to ~1MM
Gladiator Series Parts Washers
$27k to $40k
Immersion Washers (depends on customization)
$125k to ~1MM
Rotary Basket Washers
$250K - $300K
Rotary Drum Washers
$125K - $300K
Rotary Table Washers
$150K - $200K
Specialty Washers
Depends on the level of customization
Arnold Machine Parts Washers vs. the Competition
We're going to come out and say it—our machines are more expensive than the competition. However, we design our parts washers to take the abuse that an industrial piece of equipment will potentially see over 30+ years of daily usage. 
The competition often offers cheaply made parts washers that you will need to replace every 5-6 years. A Department of Transportation District Facility switched to Arnold Machine parts washers after their previous one began to rust and degrade.
Benefits of Arnold Machine Parts Washers
There are many reasons to choose Arnold Parts Washers:
Service after the sale

—We have a dedicated customer service team ready to answer your calls and provide help/support.

Save time & money

—Clean your parts with the least amount of time and labor.

Highly engineered

—We build our parts washers like a freight train. We only use premium-grade stainless steel (304SS) to ensure decades of worry-free service.

High-quality components

—The pumps, heaters, drivers, and other components used in our parts washers are built for performance and longevity.

Long-lasting

—We design our parts washers to take the abuse that an industrial piece of equipment will potentially see over 30+ years of daily usage. The competitors' machines will rust and wear out because they are cheaply made.

More sustainable

—Our machines do not use solvents. Instead, we have a proprietary aqueous solution that is more environmentally friendly and less toxic to employees.

Replacement parts

—We stock a wide range of replacement parts that will prevent you from having to buy a new machine.

Built in the U.S.

—We proudly manufacture all of our parts washers and components at our Tiffin, Ohio plant.
Gladiator Series
We created our line of Gladiator Series parts washers for companies who have low-volume cleaning needs. Gladiator parts washers are aqueous-based, pre-engineered, and highly versatile. They feature the same industrial-grade, robust engineering as our custom-built industrial models but cost far less.
Long-Lasting and Custom Industrial Parts Washers
At Arnold Machine, we build high-performance parts washers engineered to stand up to decades of wear and tear. Our dedicated customer support team will provide you with attentive pre and post-sale support. 
We also offer our Machine-as-a-Service (MaaS) program if you're having trouble securing the capital for a new washer. It allows you to immediately upgrade your technology and manufacturing capacity while turning a capital expense into an operating expense.
Click below to learn more about our industrial parts washers.