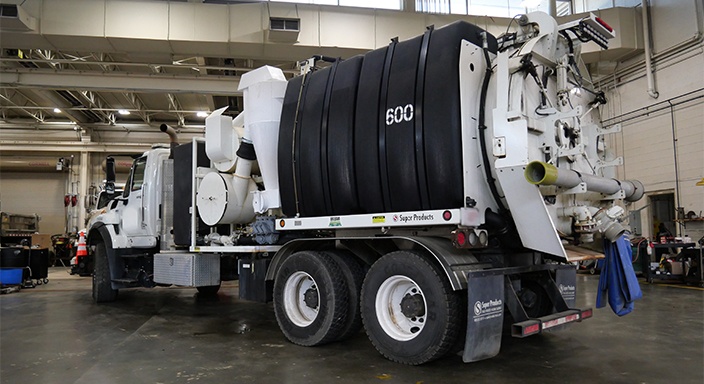 PARTS CLEANING FOR DISTRICT ROAD MAINTENANCE
Gladiator Parts Washer for Department of Transportation District Facility
A Department of Transportation facility sought a new parts washer for their maintenance department after the previous one began to degrade and rust.

The facility serves eight counties and over 4,000 lane miles of interstates, federal, and state highways and over 1,400 bridges. The maintenance department maintains around 1,800 pieces of equipment, which includes 250 pickup trucks, 150 dump trucks, excavators, and bulldozers.
During the winter months, cleaning parts is especially important. Road salt and grime can quickly build up on parts, leading to an increase in vehicle wear and tear.
The Solution

After meeting our parts washer team at a tradeshow in 2018, the district purchased the Gladiator FRT 3650, our largest Gladiator washer. A selling point for the department was the 304-stainless steel construction, knowing it could withstand the harsh winter conditions of salt and grime buildup on their equipment.
The department added an upgraded basket to the washer to increase the fencing height to protect larger pieces of equipment as it washes.

The Results

After a 3-year follow-up visit in 2022, the department manager and mechanics said they were very happy with the purchase of the Gladiator Parts Washer.
When asked about the performance of the machine, a county mechanic responded: "Anything I can put in there, I do. It's awesome."
The washer has held up through the winter months and salt buildup with no issues. They wash everything from oil pans and plastic buckets to heavy engine parts.


Future Plans

During the visit, improvements were discussed to enhance the cleaning capacity of the washer for unique parts and tools. Add-ins like "Parts Trees" can be used to hang difficult components to wash on the cleaning table inside the washer.
To find out more about Gladiator Series Parts Washer, explore our models, the FRT operations manual and more case studies.