GLADIATOR 911 - FIREFIGHTER GEAR WASHERS
Durable Gear Washers Built to Last
Cleaning firefighting gear is tough, but the Gladiator 911 PPE Washer is tougher. It reduces the need for hand scrubbing and minimizes exposure to potential contaminants from helmets, tools, boots, gloves, and SCBA gear. 
The Gladiator 911 combines rust-proof 304 stainless steel with high-quality components for maximum durability and reliability. A lifetime guarantee on the shell and two-year parts warranty ensure long-lasting performance.
When it comes to keeping firefighting gear in safe and pristine condition—you battle the blazes; we'll handle the cleanup.
GLADIATOR 911 PPE WASHER BENEFITS
Rugged and Durable
Built tough to withstand heavy daily use and perform flawlessly over the long haul.
User-Friendly Design
Carefully engineered for simple operation and maintenance. Just load and start washing.
Lab-Tested Engineering
We partnered with a specialized chemist and environmental lab to ensure optimal contaminate cleaning.
ADDITIONAL GLADIATOR 911 DETAILS 
Washing your gear after a fire is one of the most important things you can do to minimize harmful carcinogen exposure. We designed the Gladiator 911 PPE Washer to make the task simple, thorough, and efficient.
Arnold Machine is working closely with firefighting gear manufacturers while designing the Gladiator 911. That collaboration enabled us to engineer a washer that thoroughly cleans without degrading the gear material integrity and longevity.
The spacious interior holds a complete set of gear for one firefighter. Or you can fill it with different combinations of boots, helmets, gloves, SCBA tanks, and masks to customize each wash.
How it Works
We designed the Gladiator 911 for easy loading and unloading. Hooks and fixtures securely hold gear in place, allowing for safe and efficient washing. The intuitive operation saves time for your busy crew.
The system provides 45 gallons per minute of cleaning solution at 40psi. This high-pressure flow thoroughly sprays gear from all angles as the internal wash table rotates 360 degrees.
After washing, a rinse cycle lightly sprays gear to remove any remaining residue. The wash table continues turning during rinsing. Once completed, the washer automatically meters the proper amount of solution back into the tank.
Maintenance
There's minimal maintenance and cleaning required. You'll only need to replace the bag filter as needed. After draining the tank, spray off and clean the components inside before refilling.
Made in the U.S.A
Arnold Machine engineers and manufactures our washers at our Tiffin, Ohio facility. All major parts (heater, pump, and drive) are USA-made. We offer a lifetime guarantee on the washer shell and a two-year warranty on all major components.
GLADIATOR 911 TECHNICAL INFORMATION 
Each Gladiator 911 PPE Washer has a simple HMI (human-machine interface) screen. All the operator needs to do is press the cycle start button on the HMI screen. The wash cycle will begin washing and last until complete. They can then remove the cleaned PPE gear. 
There are (3) user-adjustable HMI timers that the operator can modify to customize each wash:
Cycle time

Chemical addition time

Freshwater rinse time
The stainless steel filter housing has a stainless steel bag filter that makes it easy and affordable to change. This innovative design also allows for recycling to minimize water usage.
Other Gladiator 911 PPE Washer technical specs include:
Waste water pump out

Automatic chemical addition pump

Debris Basket catches large debris and prevents it from entering back into the wash cycle. This design helps to protect the pump head while increasing the filter lifecycle.
SEE THE GLADIATOR 911 IN ACTION 
Watch the Gladiator 911 perform a complete cleaning cycle. The powerful yet gentle washer keeps firefighting gear contaminant-free and ready for the next call.
Gladiator 911 - Interior Accessories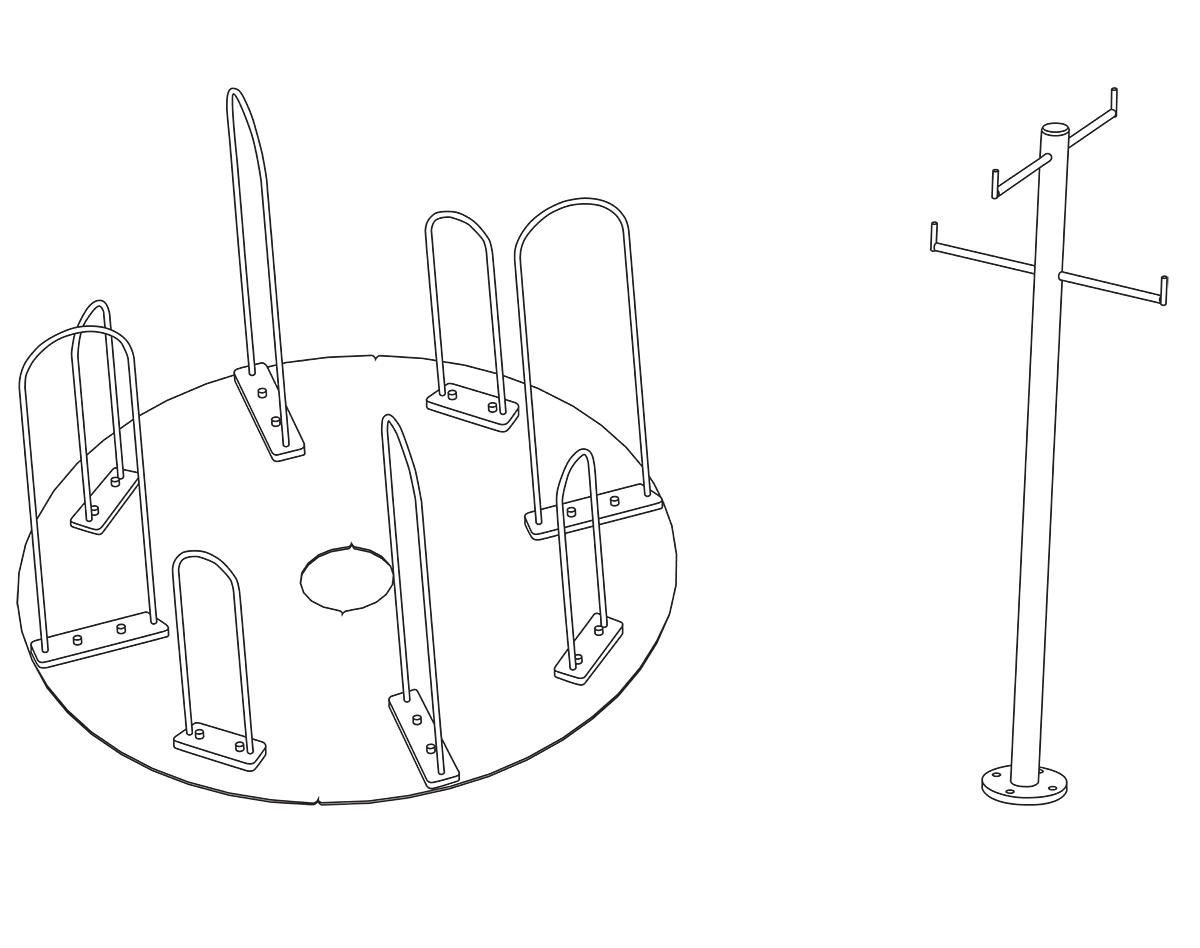 All Gladiator 911 washers come with a parts tree for face masks, tanks and helmets. It also includes an insert for boots.
Optional additions include small parts (Kadon) baskets to wash small parts and tools. 
FIREFIGHTER GEAR WASHER TECHNICAL SPECIFICATIONS
Standard Mechanical Equipment
Waste Water Pump Out
Chemical Addition Pump
Stainless Steel Vertical Solution Pump
Stainless Steel Screw Plug Heater
Stainless Steel Perforated Debris Basket
Industrial Duty Gearmotor
Threaded Poly Spray Nozzles
1" Brass Drain Valve
Viewing Window
Casters
6" Tall Stainless Steel Containment Ring
Stainless Steel Bag Filter
Standard Electrical Equipment
NEMA 12 Controls Enclosure
Low Level Heater/Pump Protection
Thermostatic Heater Control
Door Safety Switch
Wash Stage Timer (HMI controlled)
Rinse Stage Timer (HMI controlled)
Chemical Addition Timer (HMI controlled)
Options
Stainless Steel Spray Nozzles
Kadon (Small Parts) Baskets (18"x12"x6")
240V 3PH
| | | | |
| --- | --- | --- | --- |
| Table Diameter (IN) | 30 | Tank Capacity (GAL) | 55 |
| Part Opening Height (IN) - A | 36 | Tank Heater (KW) | 9 |
| Load Height (IN) | 30 | Heater Amps (240 1PH) | 41.2 |
| Table Load Capacity (LB) | 1000 | Heater Amps (240 3PH) | 24.8 |
| Table Speed (RPM) | 2.5 | Tank Operating Temp (F) | 120 (F) Recommended |
| Drive (HP) | 1/4 | Tank Heat-Up Time (To 120F)(HRS) | 0.5 |
| Drive AMPS (240V 1PH) | 2.9 | Standard Voltage | 240V 1PH |
| Drive AMPS (240V 3PH) | 1 | Housing Construction | 12 ga. 304 Stainless Steel |
| Pump Flow (GPM) | 45 | Height (IN)—B | 6'-2" |
| Pump Pressure (PSI) | 40 | Width (IN)—C | 4'-6" |
| Pump (HP) | 3 | Depth (IN)—D | 4'-3" |
| Pump Amps (240V 1PH) | 17 | Full Load Amps (240V 1PH) | 61.1 |
| Pump Amps (240V 3PH) | 9.6 | Full Load Amps (240V 3PH) | 35.4 |
Quality Assurance 
We offer a lifetime guarantee on the 304 stainless-steel exteriors of the Gladiator parts washers. Unlike carbon steel washers, the Gladiator 911 won't rust and is highly resistant to corrosion and oxidization. The heater, drive motor, and pump are the three main replaceable parts of the Gladiator washer.
Arnold Machine offers up to a 2-year warranty after the purchase and will replace and repair at no cost during this period. We only use top-of-the-line industrial components built to last in a production/industrial setting. Quality and longevity come first when selecting suppliers.
FREQUENTLY ASKED QUESTIONS
How is your turnout gear washer different from a standard washing machine?

What sizes of gear can this washer handle?

Do I need special detergents to operate the Gladiator 911 washer?