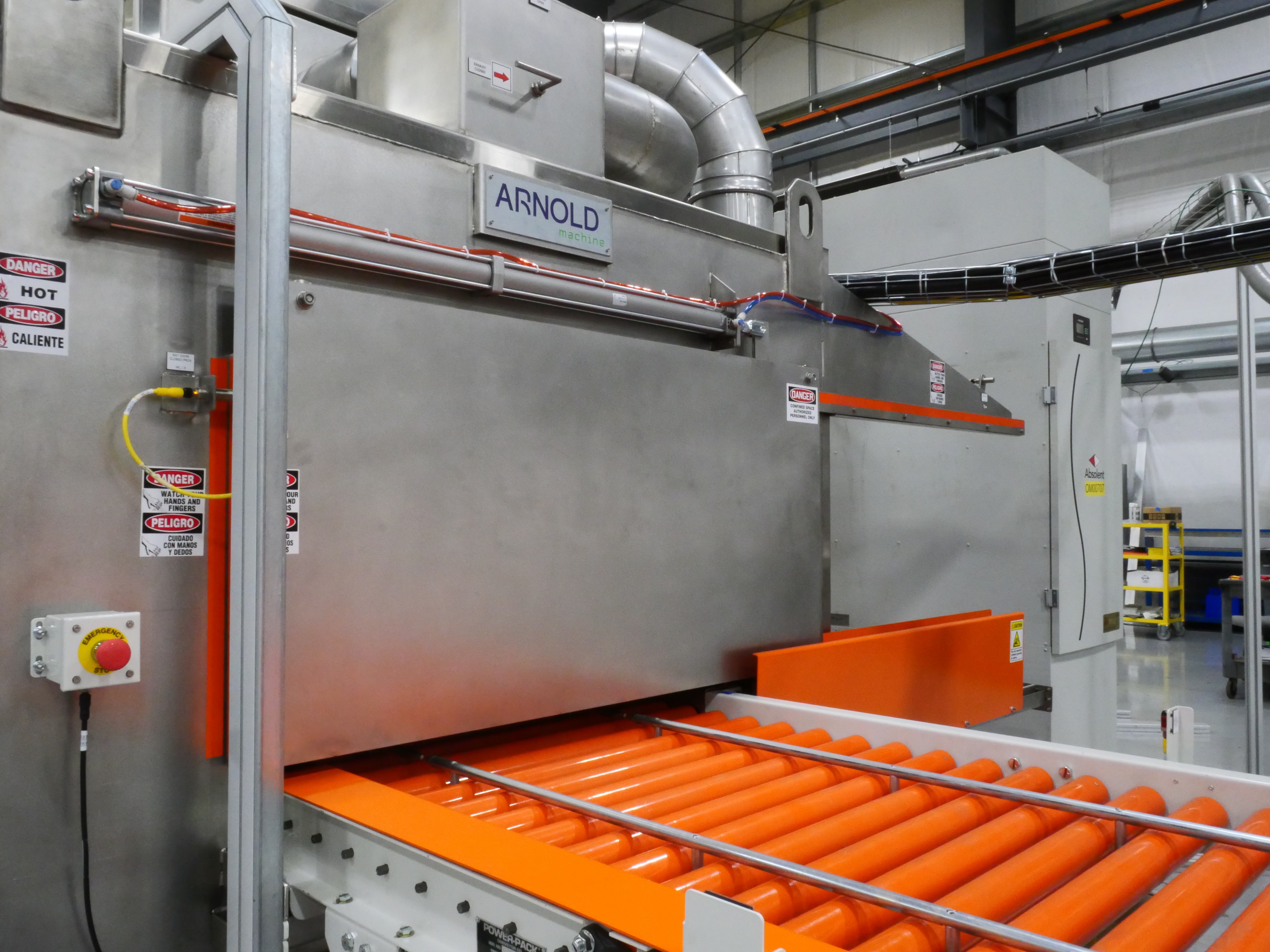 AUTOMATED PARTS WASHERS
Leverage cutting-edge automation to help reduce labor requirements
Arnold Machine can add automation features to most of our industrial parts washers. Options include conveyor systems, robotic arms, and automated carts to handle part loading and unloading. 
Manufacturers can optimize labor more effectively when they automate the parts washer loading and unloading step. Operators need only be present at the start and finish of each cycle. This frees up their time to focus on higher-priority tasks.
The right automation improves workflow efficiency, increases output, and cuts costs. Let Arnold Machine's automated parts washers take your manufacturing productivity to the next level and beyond.
PARTS WASHING AUTOMATION BENEFITS
Eliminate Contamination Risk
Ensures consistently clean parts while avoiding the potential for contamination.
Reduced Labor Requirements
Allows operators to load the washer and walk away to handle other tasks.
Increased Employee Safety
Automated cleaning minimizes worker exposure to hazardous chemicals.
ADDITIONAL AUTOMATION DETAILS
Industrial parts washers from Arnold Machine offer robust engineering, high-quality parts, and unmatched reliability. This allows manufacturers to improve operational efficiency and reduce maintenance downtime across production lines.
We can outfit most of our custom washers with some form of automation. For example, we can automate the chemical addition process and the loading and unloading of materials in and out of the washer. 
Automatic parts washers can significantly improve material flow. This is especially true if the washer is part of a larger process, such as cleaning before or after a welding operation. 
Washing automation is also beneficial before a coating application, particularly in processes requiring anti-corrosive spraying. It helps to remove oil and grease and prevents contamination from fingerprints, dirt, or debris.
COMBINING AUTOMATION AND PARTS WASHING 
Watch the video below to see the automated parts washer Arnold Machine built for a manufacturing company. The customized washer helped our client to tighten quality control and reduce labor needs.
Get in Touch With Us
Contact us below to speak with one of our engineers. We'll take the time to learn more about your processes so we can make custom recommendations that meet your unique needs and solve your toughest challenges.
Request a Quote
Contact Us
Frequently Asked Questions
What types of materials can your parts washers clean effectively?

How can I customize my parts washer system beyond adding automation?