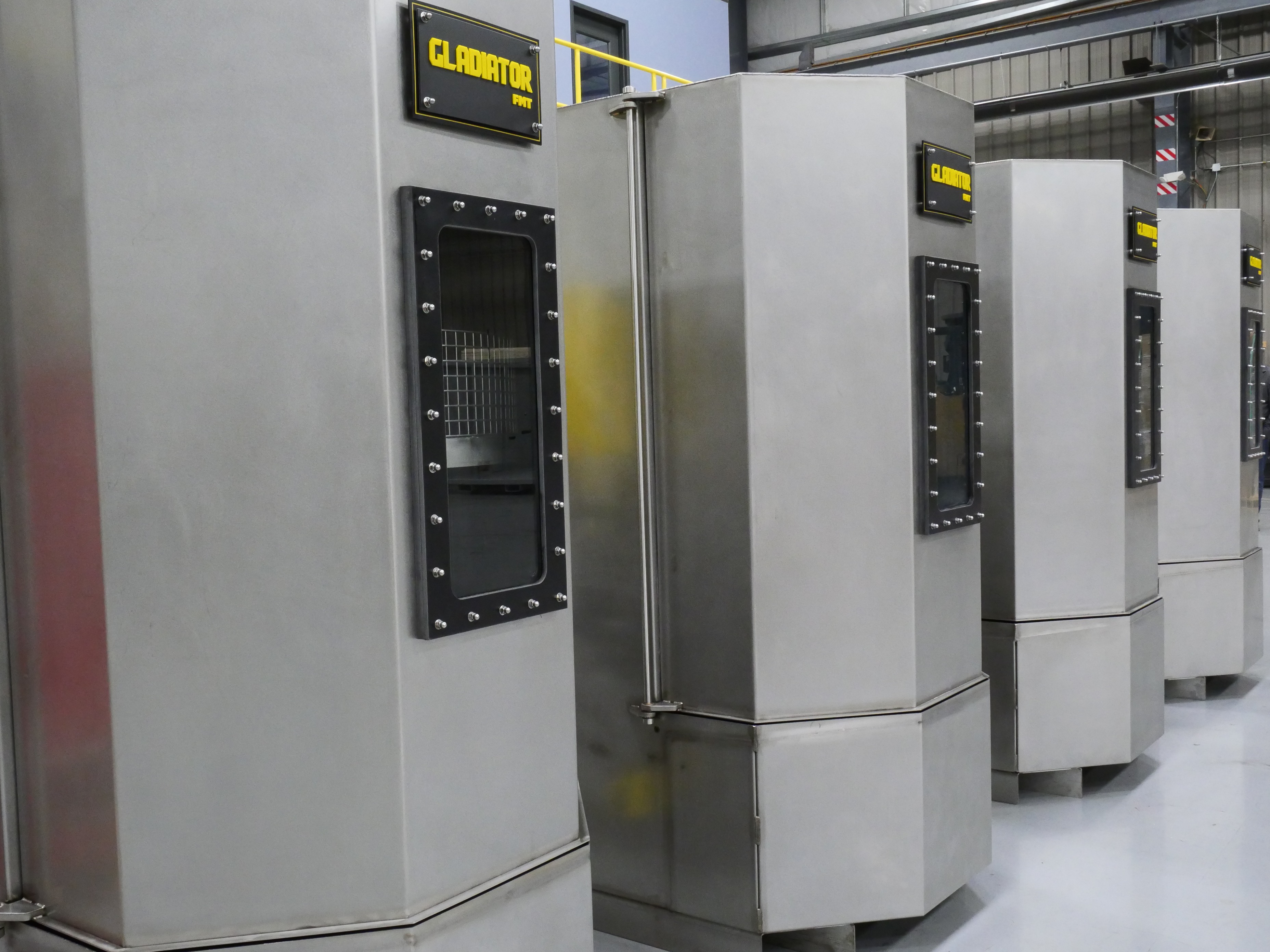 HOW AUTOMATED PARTS WASHERS SAVE TRANSIT AUTHORITIES MONEY
Keeping a transit fleet in good working order is a monumental task. Transportation maintenance crews have their work cut out for them, with hundreds or even thousands of vehicles requiring regular maintenance.
As such, cleaning the sheer volume of vehicle parts brought in for service can become prohibitively time-consuming and expensive. Automated parts washers for transit authorities are the perfect solution to alleviate these challenges while optimizing efficiency.
Read on to learn how to save money with an automated parts washer.
AUTOMATED PARTS WASHER BENEFITS
Parts washers offer multiple advantages over manual scrubbing and cleaning methods. For starters, you won't need to dedicate multiple employees to the thankless task of washing dirty parts with dangerous chemicals. You can re-assign staff to other critical maintenance tasks and let the machine automatically perform cleaning duties.
Certain washers, such as the Gladiator FRT, use a safe and aqueous-based proprietary cleaning solution. Parts come out far cleaner than they ever would through manual washing. Best of all, the machine doesn't get tired or need a lunch break—one worker can run it for the entire shift while doing other tasks between cycles, ensuring a steady supply of clean parts.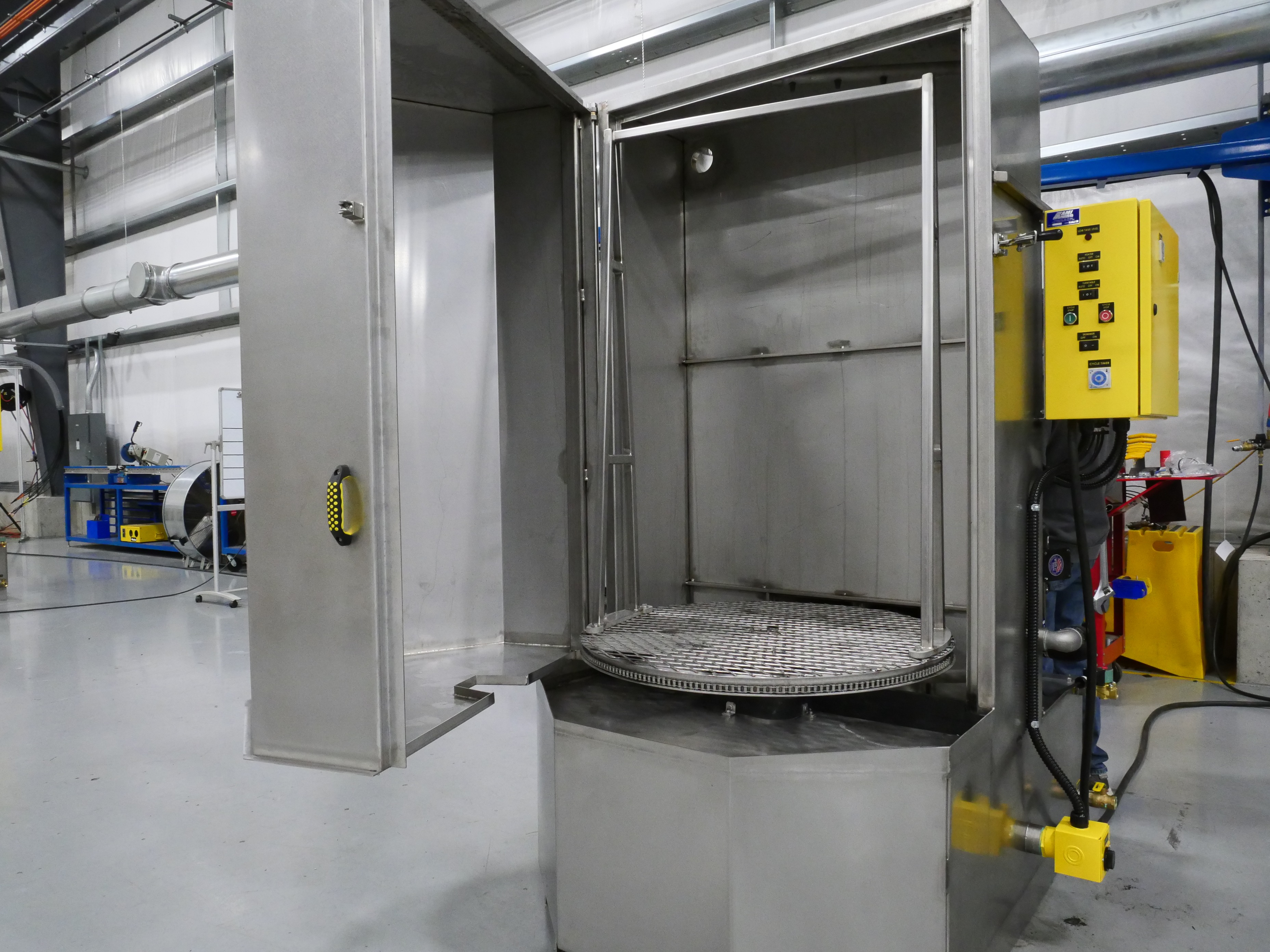 Parts washers also clean more thoroughly than a human ever could by hand. Their enhanced cleaning power and contaminant elimination help extend the lifespan of tools, components, and equipment. As such, you'll benefit from decreased vehicle downtime and maintenance expenses.
MULTIPLE WAYS PARTS WASHERS CUT COSTS
Controlling transportation maintenance costs is an ongoing challenge that demands innovative solutions. Automated parts washers stand as a vital tool in this cost-controlling arsenal. More than just an upgrade from manual labor—they are a strategic investment in long-term savings and quality control.
Automated parts washers help transit departments reduce costs in many ways, including:
Reduced labor

—Automatic parts washing frees up staff for other tasks.

Lower cleaning supplies

—Parts washers use less soap, rags, brushes, and other consumables versus hand scrubbing.

Decreased water waste

—Automated cleaning systems are far more water-efficient than manual washing. The dramatically decreased water utilization helps substantially reduce utility bills and environmental impact. 

Extended part lifespan

—Deep cleaning consistently makes components last longer before needing replacement.
CHOOSING THE RIGHT MANUFACTURER
Working with an experienced manufacturer like Arnold Machine can significantly enhance benefits for transit authority managers. These include:
Durable Construction
Arnold Machine builds the parts of the Gladiator washer out of industrial-grade 304 stainless steel to stand up to the test of time. Unlike other part washer brands, you won't have to replace the Gladiator every five years due to a rusted-out shell. 
We design and manufacture our innovative parts washers at our Tiffin, Ohio, factory. By keeping production on US soil, we can closely monitor and control quality to ensure our washers consistently meet our high standards. 
Our commitment to domestic manufacturing allows quick turnaround on custom orders and rapid response times should any issue arise after delivery. When you buy a Gladiator, you're investing in a rugged, reliable, Made-in-America machine.
Customization
Transit facilities have unique individual cleaning needs based on layout, fleet, and other applications. As a custom fabricator, Arnold Machine can design unique customizations to suit your needs. We also offer the following options for our parts washers:
6" stainless steel containment ring

Parts Tree for hanging multiple smaller/medium-sized parts 

A Frame for hanging parts

2nd tier table and dual 6" containment ring

Small Kadon basket (for tiny parts/hardware/etc.)
Strong Warranties
Opt for washers backed by solid manufacturer warranties. For example, Gladiator Parts Washers come with a lifetime guarantee protecting the stainless steel cabinet. You'll also get a two-year warranty covering major mechanical components. Unlike many parts washer manufacturers, we don't have fine print on our warranties designed to avoid honoring the warranty if there's a problem. You'll enjoy peace of mind knowing that the equipment will deliver decades of reliable service with minimal maintenance.
Responsiveness and Service
At Arnold Machine, we have extensive experience with transit industry applications. We'll provide ongoing service and support to ensure optimal performance and value over the equipment's lifetime. 
HELPFUL BUYING TIPS
Switching to automated washing can significantly reduce expenses. Here are a few tips that can help ensure you choose the right equipment and maximize the cost savings:
Avoid inferior consumer-grade units that are cheaper initially but will wear out quickly.

Properly size capacity to handle your workload volumes.

Consult an experienced manufacturer to assess your needs and recommend optimal washers.

Carefully evaluate expected volumes, soil types, and overall requirements.

Select a washer with the right features and power for your applications.

Focus on longevity, value, and performance over just the initial price.
Consult with the experts at Arnold Machine to get started on the path to maximize savings. We will assess your cleaning requirements and recommend the ideal washer designed for longevity, value, and optimal performance.
TRANSFORM YOUR OPERATIONS WITH AN AUTOMATED WASHER
Automated parts washers from Arnold Machine will provide immense value to your transit maintenance operations for decades. Our expert engineers will work closely with you to design and build a custom parts-washing system that solves your most demanding cleaning challenges.
Click below to learn more about the value you'll get from adding our parts washers to your transportation maintenance department.