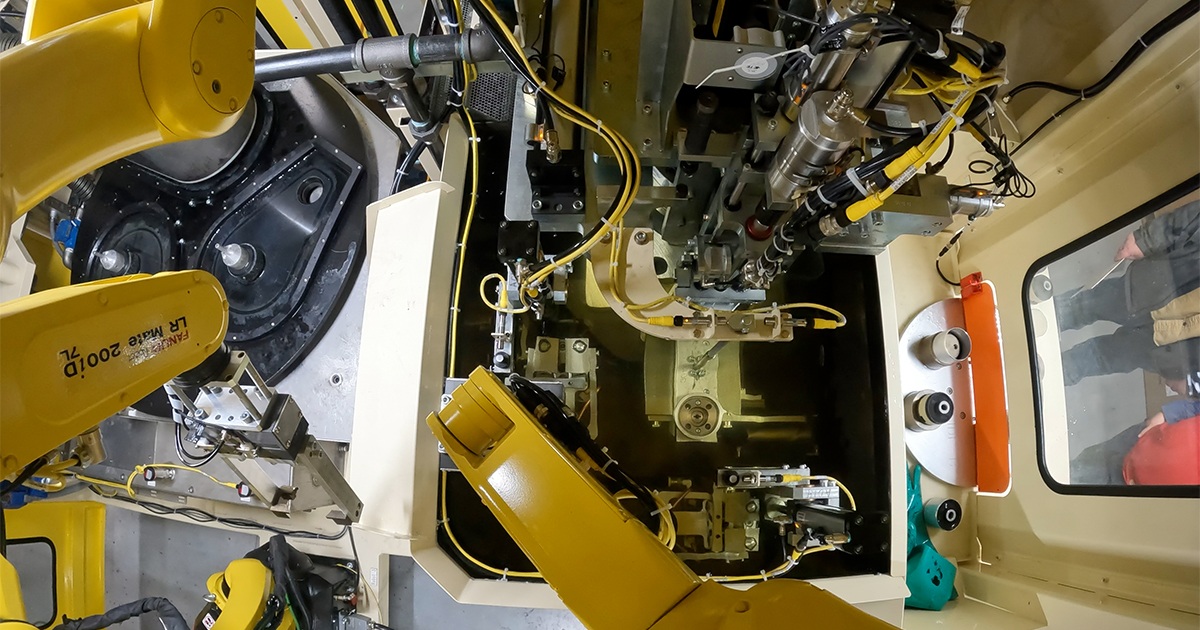 Under Fluid Hydro-Mount Assembly Cell
Anti-Vibration component assembly for a tier 1 automotive supplier
A tier 1 automotive supplier that has been partnered with Arnold Machine for several years reached out to our team to innovate and increase production on a current process for anti-vibration components. The customer wanted Arnold Machine to fully automate the cell as production was increasing and the current workforce was not able to keep up with demand.
Previous Process:
The previous process that this company used was also designed and built by Arnold Machine and has been in production for 8 years. We have made continuous process improvements as production changed or new product launches occurred.
The scope of this new project was to take the process that currently utilized 3 operators and build a machine that would only require 1 operator and increase productivity.
Challenges:
Create a process that used 1 operator instead of 3
Improve cycle time by decreasing time needed from 40-45 seconds down to 35 seconds
Create higher consistency and uptime compared to the manual process
Reduce operator responsibility
Produce more consistent parts
The Solution:
Arnold Machine was able to create a new system using 2 FANUC LR Mate 200id/7L robots and 2 FANUC M-10id/12 robots to complete all of the transferring from operation to operation within the assembly cell. The Under Fluid Hydro-Mount Assembly Cell allows an operator to set the components of the hydro mount onto a table which shuttles into the system where a robot submerges the parts into a Glycol tank. From there, any air is purged from the part and placed into a custom swage die where a specific amount of fluid is sealed within the part, then a robot pulls the part out of the glycol tank and placed on a dial table wash station. Here, the part is washed and dried, then a robot picks and places the clean part into the roll crimp station. Once the roll crimp operation is complete, the part is transferred via robot to the inspection station. Finally, the part is robotically transferred into a press station where the mount is pressed into a bracket and presented to the operator complete.
The company did extensive testing of the machine on Arnold Machine's floor, as per standard procedure, and as a result, we were able to commission the system in a matter of days and bring the system into production. All aspects of the machine were inspected and approved by the customer prior to making a single production part to ensure the system meet the specification and cycle time requirements.
The Results:
This process was a major success for the client. Arnold Machine produced a piece of automation equipment that produces a quality part that is repeatable and consistent.
A few notable improvements for our customer were:
The use of robots allowed us to increase output, decrease operator involvement and produce a more consistent part.
Cycle time was cut by approximately 10 seconds part-to-part and quality, consistency, and repeatability have all improved.
The system keeps operators safe and allows for a shorter cycle time.
This machine has a physical footprint 40% smaller than comparable equipment.
Our client has expressed interest in having Arnold Machine investigate other systems to increase productivity in other areas of their manufacturing process.