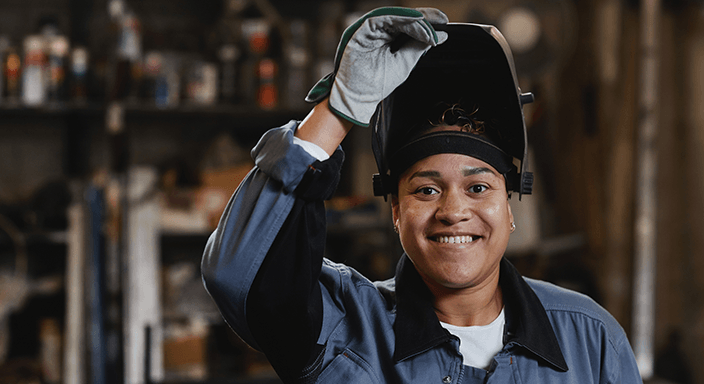 How to Grow Your Career at Arnold Machine
"Just stay in your lane! We hired you to work the line, and that's what you'll do until you pay your dues." Sound familiar? That's what too many companies want from their employees.
This isn't the case at Arnold Machine.
We believe that anyone who aspires to grow and develop should be given the chance to spread their wings and advance their careers, without having to go hunting elsewhere.
Grow at Your Own Pace to Advance Your Career
It doesn't matter whether you are straight out of high school or have an advanced degree—wherever you are, you have the potential to grow. 
We value our employees' hard work, dedication, and loyalty. To reward that kind of effort, we've developed extensive training programs and professional development opportunities for employees across the company. Grow at the pace that suits you to match your ambitions. The best way to grab the attention of our team is by exhibiting a strong work ethic and a willingness to learn.
Arnold Believes in and Invests in You
We are constantly on the lookout for potential candidates for promotion within Arnold Machine. Using regular performance reviews, conversations, and observation, we're able to identify opportunities for growth and areas of strength in each of our employees.  That way, you know what you need to do to take that next step in your development as an employee. 
We help our employees stay up-to-date on the latest innovations and developments in our industry by providing unique and challenging projects to help you stay sharp and engaged.
It's important to us to invest in each employee, so that whatever you want to achieve while working at Arnold is put within your reach.
Collaborative Atmosphere
The collaborative, family-friendly environment at Arnold keeps people from working in silos, broadening opportunities to sharpen your skills and observe other aspects of our business. 
These connections can help you identify ways you want to stretch yourself, and because we've designed our business with this posture, people don't feel threatened by your goals. Instead, our team members empower and encourage each other to meet their potential.
Regular Performance Reviews
Our company practices routine performance reviews and regularly communicates with each team member so that there aren't any surprises about the areas you need to be working on. 
This open and transparent system reduces stress and removes the mystery behind how you're performing in your role. It also provides managers the opportunity to identify your goals and keep your skills in mind when opportunities for promotion arise.
Clear Organizational Structure
Arnold Machine has clearly defined roles and responsibilities across the company so that our employees know what's expected in each job.
Team members understand who they report to, what opportunities are available to them at the next rung of the ladder, and what skills and abilities they need to develop or refine in order to best position themselves for a promotion.


Arnold Machine is actively looking for people internally who want to advance their careers, AND we're eager to find more people who want to join a team that will encourage their growth and development. Advance your career with Arnold Machine.
Explore current job openings and apply today
.