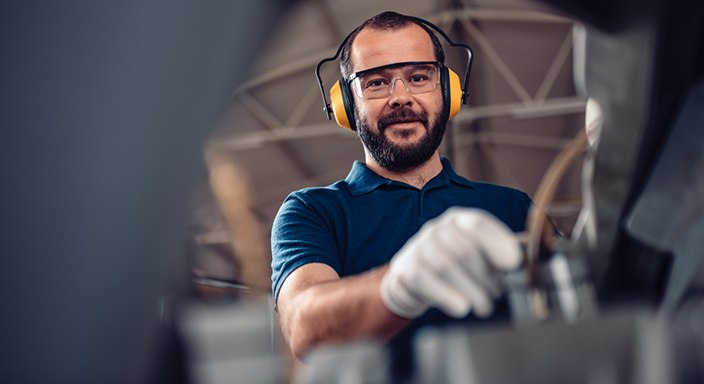 Why Work for Arnold Machine?
Automation is already a substantial part of operations in manufacturing all over the world, and it isn't going away. Behind every well-designed system is a team of highly skilled engineers, designing and innovating automation systems for a unique stream of businesses.
The team at Arnold Machine works closely with Tier 1 Automotive, high volume general industry, oil and gas, and public transportation and road maintenance customers to quite literally keep their worlds moving. Our team members love the thrill of a new challenge, and at Arnold Machine, every new client is a new opportunity to innovate, design, and build automation systems to make the future of work smarter and more efficient.
If you're looking for a place where you can stretch and grow, Arnold Machine is the kind of environment where both happen. Find Out More » 
HERE'S WHAT YOU CAN EXPECT:
Banish Workplace Boredom
Innovation requires space to dream new systems into existence. Our team of engineers, electricians, programmers, and machine tradesmen collaborate with each client to design and precision engineer highly customized systems that fit within their existing operations. We partner with businesses from a wide array of industries with diverse needs and challenges. This work takes creativity and design thinking every day of the week, so while we're in the business of designing automation, at Arnold Machine, you're never just going through the motions. 
It's a unique and challenging work environment, and well, let's just say it: we know how to have a good time.
Find Your Groove and Grow
Arnold Machine is a strong believer in cultivating leadership, developing expertise, and rewarding efforts with opportunities for internal advancement. Why wouldn't we want to build on our internal strengths? In addition to advancement opportunities, we also offer an education assistance program for employees who want to advance their skills.
Workplace Designed for Work-Life Balance
As a family-owned and operated business, we are committed to keeping first things first… so much so that we've structured our entire operations to remain committed to this principle. Our entire team works Monday through Thursday, 6 AM to 4 PM, keeping evenings free and turning every weekend into a long weekend.
Secure and Stable Job
We've been around for over two decades now, and we don't plan on going anywhere either. Our first-rate facility in Tiffin, Ohio, provides the space and capacity for us to customize equipment for local, regional, and national clients, serving a diverse array of industries that virtually guarantees a continued need for a growing team. We're grateful for the trust our customers have placed in us and are eager to meet their needs with highly skilled team members on board.
Benefits and Perks
In addition to medical, dental, and vision insurance, paid vacation days, life insurance, and other benefits, we're pleased to be able to offer additional perks to help our employees thrive in their roles and in their lives outside of work. Besides educational assistance, we offer an employee assistance program, profit sharing, a clothing allowance, a wellness program, and a YMCA discount.
So, what roles are we hiring right now?
Great question!
Explore open opportunities
with Arnold Machine and learn more about our business. Quit automating your workday and come design automation that will change the world of work.